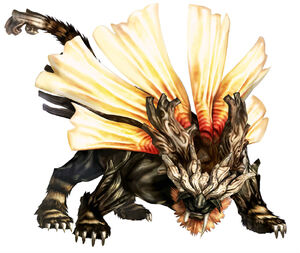 Taken from Gods Eater Burst's database:
A giant Aragami resembling a tiger. Moves so fast and can outmaneuver the enemy. Unleashes electric shocks from the cape-like organ on its back. First appeared in southwestern Eurasia, but can now be found throughout the continent.
Vulnerable in the front legs, abdomen and tail. When it's activated by rage, stun grenades can immobilize it for a longer time, so use them aggressively.
Weaknesses
Edit
Fire, Ice, Divine
Variations
Edit