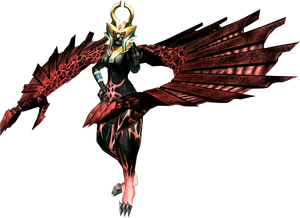 Taken from Gods Eater Burst's database:
An Aragami in human-form with wings of scorching fire. Capable of extremely aggressive attacks, shooting fireballs from both fists that explode on impact. Thought to have first appeared in the southwestern area of the Eurasian continent.
Charges by gliding: because of its fiery wings, it can be difficult to evade. When angered, its flames expand horizontally, so take heed.
Weaknesses
Edit
Ice
Variations
Edit