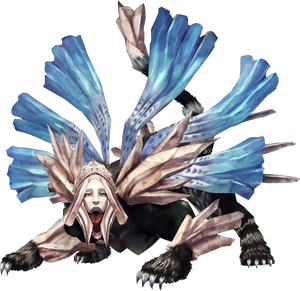 Taken from Gods Eater Burst's database:
A giant Aragami with the face of a cruel goddess. Defends itself while attacking the enemy by causing blocks of ice to rise. Said to have first appeared in northeastern Eurasia. It has been seen a lot since the Moon in the Welkin mission.
Disperses cold air. When enraged, its body goes rigid, so destroy its shoulders and other body parts to it easy to run one's sword through.
Weaknesses
Edit
Fire
Variations
Edit