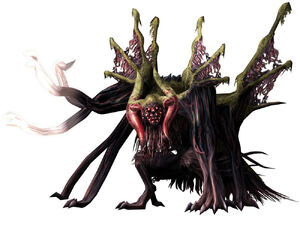 Taken from Gods Eater Burst's database:
A uniquely-shaped huge Aragami with innumerable tentacles and eyes. Also known as the Conqueror of the Plains, its body is the size of a mountain. As well as tentacle attacks, it emits a large-caliber beam. Origins unknown.
Avoid medium-to-long range combat. Stay out of its reach and repluse it with gunfire, then strike with one's sword to be safe. When activated by rage, its legs become vulnerable.
Ouroboros is a tough aragami. Not because of his attacks (his attacks are not quite damaging,) but because of his high health and his sheer size. It's hard to avoid his attacks but it does not signal your demise. You will need high amounts of stamina to block his attacks. That's the best chance you have against the titan.
Weaknesses
Edit
Divine
Variations
Edit