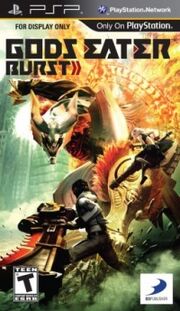 Welcome to the Gods Eater Burst Wiki!Edit
Feel free to edit or add pages to help this wiki become a great source of information for all Gods Eaters!
What is Gods Eater Burst?
Edit
Gods Eater burst is a third person action game for the Playstation Portable (PSP), made by Bandai Namco, and published by D3.
You are a New-Type Gods Eater, hunter of the Aragami in a post-apocalyptic world. You work for the Far East Branch of Fenrir, an organization dedicated to the hunt of these creatures. As you progress through the missions, you will learn about your fellow Gods Eaters, and the dark secrets of the Aragami...