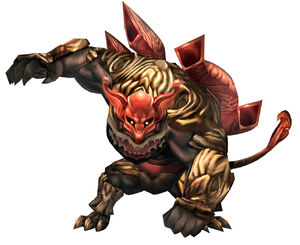 Taken from Gods Eater Burst's database:
An Aragami built like a gigantic ape-man. Characterized by its agility and brutal attacks. It will assemble a herd to launch an attack. First appeared in the Far East, Eurasian continent.
It'll fire vacuum waves from the pipe-shaped organs on its back. When enraged, it boosts its speed and attack power. Should several Kongous activate simultaneously, it's best to be cautious.
Weaknesses
Edit
Spark
Variations
Edit